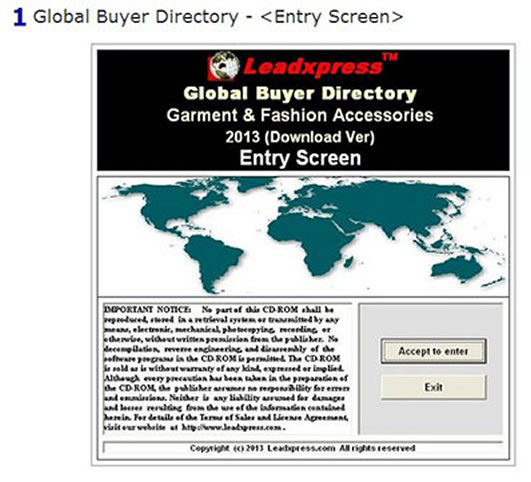 After the installation and registration processes, run the directory program on the windows desktop by clicking

(Start) > (Programs) > (Leadxpress#N) > (Leadxpress#N) (where #N is the code assigned for different directory, e.g. #GT for Garment Directory and #HW for Houseware Directory).

Then, the (Entry Screen) shown on the left hand side will be displayed.

Just press (Accept to enter) to enter the (Global Buyer Directory - Menu) as shown in the following picture.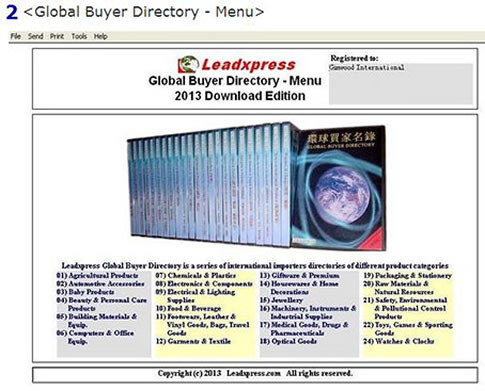 It is the pull-down menu on the left hand side of the top of the Menu screen. You may select the following functions from the pull-down menu by a mouse:

01) Search buyer's record one by one on screen by the searching criteria (company name, country, or product)
02) View a group of buyer's records in the table form on screen using searching criteria such as country and product
03) Enquire Global Importers' Organization using product group or the name of the organization
04) Complete the Email Setting (email server and sender's information entry)
05) Send emails to global buyers and importers using sending criteria such as country, products, or company
06) Send fax by Email-to-fax function to global buyers and importers using sending criteria such as country, products, or company (this function needs an email-to-fax account)
07) Export email or fax list for other email or fax applications
08) Print mailing labels for buyers or importer organizations
09) Print contact lists for buyers or importer organizations
10) Print reports for Email, Efax, Unsent Email, Unsent Efax, Email Log,etc.
11) Build and maintain the Supression List (Block List) for email removal request
12) Access online Helps and Tips