A searchable global importers directory in CD-Rom and all-in-one direct marketing tool contains massive worldwide buyers trade leads (or importers trade leads) covering wide range of business sectors. This global buyers directory (also referred as global importers directory) is well designed as a cost-effective and powerful international marketing tool providing many features differing from the traditional business directory, email address directory, global buyers directory, worldwide importers register, business yellow pages, and buyers & importers databases, etc. Our global buyers directory is equipped with user-friendly program to support sending emails using standard ESMTP servers, printing mailing labels, exporting data in CSV format for third party fax & email application, opt-out function, and much more ...


Our Buyers Directory is classified into the following product categories:
Click to view Demo of global importers & buyers directory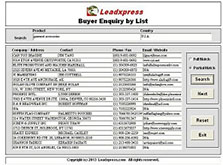 Features:
No time-consuming importers & buyers data entry needed.

User-friendly Menu-driven query screen for ease of use.

Viewing importers & buyers information on screen by company name, country, or product imported.

Printing Mailing Labels, Buyer Contact List, E-mail Report, etc.

Sending personalized emails by product, country, its combination, or company name.

Capability to export fax/email data for other fax and email application.

Option to select specific buyers records to send email.

Quick Start Guide to reduce learning time enabling to start promotion quickly.

Buyers' information including company name, mailing address, country, phone no., fax no., contacted person, business activities, website & email address, products imported, etc.

Opt-out function to fulfill the anti-spam law requirements.

Extra tool of Directory of Global Import Organizations included.

CD Download Version released and available to replace CD rom version for fast delivery



Note: Our directory is a single user and PC version which supports Ms Windows XP/Vista/7/10 desktop computers and standard SMTP & ESMTP servers to send emails. It cannot be installed and run on the other OS such as Linux, Apple Mac and mobile devices. The purchaser should provide the proper OS and computer to use the directory.
System Requirements:
Computer: IBM compatible computer 400 MHz

Memory: 64MB Ram

Hard disk space: 50MB

Display: 256 color, 800x600 screen

CD Rom: 24X CD Rom (for CD version)

Others: Sound Card, Mouse, Modem or Lan card for internet connection*

Software: Ms Windows XP/Vista/7/10 desktop computers.
Notes:
*Our email function requires standard SMTP server to enable sending emails
*Data is subject to change after its collection.